How IoT is Transforming the Future of Retail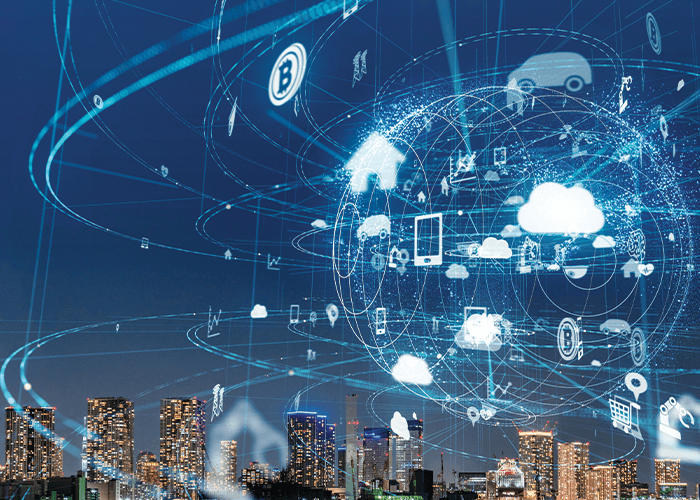 The Internet of Things (IoT) is becoming the next big revolution in the retail industry. But what exactly does it entail?
IoT is the ecosystem of physical objects that are interconnected and can communicate through the Internet or a network without any human involvement.
Imagine shopping at your favorite clothing store and when you spot a dress you like, your phone beeps with a notification saying you just received a loyalty discount! Wouldn't that be neat? IoT makes such a scenario possible, as retail stores can set up sensors that can identify the presence of loyalty program customers and send discounts to them on their smartphones when they are standing in close proximity to products.
Welcome to the world of IoT
When regarding IoT, most people think only about smart home concepts and connected cars. However, there are many more applications to IoT than that. As per a report from Global Market Insights, IoT in the retail segment is expected to grow 21 percent from 2017 to 2024. Recent years alone have witnessed retailers adopting augmented reality, virtual reality and data analytics for gaining customer insights and improving shopper experience.
Thanks to the advancements in the fields of cloud computing, virtualization, networking and data science, IoT is geared up for growth to the next level. According to a report by Verizon.com, 77 percent of retailers in the market expect IoT and its applications to improve their customer experience. IoT, thus, marks the future of retail.
Connected customers
IoT enables retailers to provide better custom offers to customers. In the past, retailers used to send mass promotions to customers with an expectation that some percentage of recipients would be interested and would turn up at the store.
Thanks to IoT, retailers can push the best price and product offers to shoppers in real-time. More importantly, they can send relevant offers based on a customer's age, tastes and preferences, and past purchasing history.
IoT helps retailers store all relevant customer information in a unified platform, and based on the data, store owners can customize discount offers, gift cards, push messages, e-mails and marketing campaigns for each individual customer.
For instance, if a customer purchased a specific brand of clothing from your store in the past, you can notify that customer when the new line of clothing from that particular brand arrives at the store. This lets the customer have an exclusive first-look at the new collection - a gesture that makes customers feel valued. This is just one small example of how IoT allows retailers to connect with customers and offer them the best deal at the right time.
Additionally, based on past purchases and browsing histories, retailers can ensure only relevant offers are extended to customers. For example, a retailer shouldn't send a promotion for baby diapers to a single man with no children.
Notifications of equipment readiness
Gone are the days of unforeseen equipment failures and consequent product damages. IoT helps to predict any issues or potential disasters related to a retailer's equipment so that it can be rectified as soon as possible.
For instance, imagine the loss to the retailer if its large freezing unit failed overnight, and half a ton of product thawed and spoiled. If the freezing unit is IoT enabled, critical systems can be monitored, and proactive actions can be taken with regards to maintenance and repairs.
Demand-based warehouse fulfillment
IoT takes inventory management and demand-supply planning to the next level. Eventually, most merchandise in warehouses will be fitted with GPS sensors and RFID (Radio Frequency Identification Devices) that are tracked by IoT automation.
RFID allows retailers to monitor the location and movement of product, and coupled with POS systems for online and in-store sales, allows inventories to be readily available at stores and shipping locations to ensure items in high demand are never out of stock.
Smart transportation with IoT
Moving merchandise from one location to another has become much easier with IoT in the picture. GPS systems help retailers for this purpose, but IoT provides better tracking, route optimization, and maintenance of transport with greater accuracy. RFID enables the precise tracking of products throughout the supply chain - right from production to the point of sale.
Businesses can either store this information in their existing logistics information system or on an integrated and centralized app platform.
IoT-based smart store
The smart store is a fantastic concept that can be implemented by IoT, with the movement of visitors coming to the store analyzed in real-time. Advanced analytics can determine shopper activities in-store, including what merchandise and product displays are being engaged with, as well as shopper and employee interactions. Additionally, IoT sensors and data analytics allow for easy A/B testing, determining if changes to store layouts and/or merchandising displays are succeeding in attracting and engaging with shoppers.
Also in-store, beacons are helping retailers incorporate IoT in smart stores in a big way. With beacons, retailers can send push notifications about discounts and offers automatically to the smartphones of shoppers in the coverage area, provide easy in-store navigation easily, and collect customer data to send relevant and personalized information.
IoT-empowered smart stores help retailers understand the thinking process of customers and address challenges and opportunities by applying data-oriented solutions to improve the in-store shopping experience.
Cashierless checkouts
More and more frequently, IoT-enabled machines are serving as cashier, offering your shoppers an instant, hassle-free checkout experience. Apps, cameras and other sensors are utilized, and transactions are processed in split-seconds. In some retail segments, queues at checkout lanes will become a thing of the past.
In addition to checking out customers, alerting mechanisms can be enabled to detect if a customer takes a 'Not for Sale' item (like a reusable bag, trial piece, etc.) beyond a check-point. If any breach, happens, IoT systems alert staff members to intervene and provide service.
Robotic assistance to customers
Retail store owners can leverage robotic assistants to meet and greet shoppers, as well as explain product features and benefits. Robots can also be used for restocking shelves and managing store inventories. An excellent case in point is Lowe's newest robot employee - OSHbot. This bilingual robot (it can communicate in English and Spanish) is designed to help shoppers find their desired products. It can also offer information on promotions and inventory.
Other retailers like Target and Best Buy are also using robots for stocking shelves and managing store inventory, and restaurants are already testing the benefits of robot waiters.
Digital signage solutions
Retailers have started using digital signage solutions like iPad screens, intuitive touch screens, and in-store digital screens to engage with shoppers. Some formats of digital signage use AI algorithms to analyze a shopper walking in and then predict his/her requirements and subsequently display advertisements that are apt for the shopper.
For example, if the IoT system detects a mother holding a baby walking into the store, the digital signage will advertise a stroller with the caption "Why carry your baby when he can sleep in a stroller?" If the next person walking in is a 10-year-old boy, the signage will change to advertise a Spider-man DVD.
These are just a few ways IoT's role in transforming retail industry is expanding day by day. The rapid growth of online shopping has led retail stores to think about ways to improve the shopper experience. And, IoT is one of their best bets.
IoT will radically transform the retail industry in the coming years, enabling retailers to launch better-targeted marketing campaigns and achieve higher rates of successful conversions. On the other side, shoppers benefit from IoT when they get the best in-store experience and the best offers.
If you want to make IoT a part of your business solution, begin by researching its applications, discussing it with market leaders on forums specializing in internet questions and answers such as Quora, Discuss, Answers.com etc., or attending various webinars on the subject.
About the writer: Samuel Alfie is a blogger at ProProfs Discuss, the #1 Q&A website with millions of wisdom seekers collaborating to ask questions and get the best answers. He loves reading and writing about a variety of topics including technology, business e-commerce, science, philosophy, pop culture, digital media, and more. With a knack for writing, enthusiasm for research and an editorial mindset, he loves creating content that resonates with the audience.
Join the #retail, #SmartStore & #ConnectedJourney conversations on Twitter @RetailNext, as well as at www.facebook.com/retailnext.
About the author: