3 In-Store Analytics Case Studies Every Retailer Should Read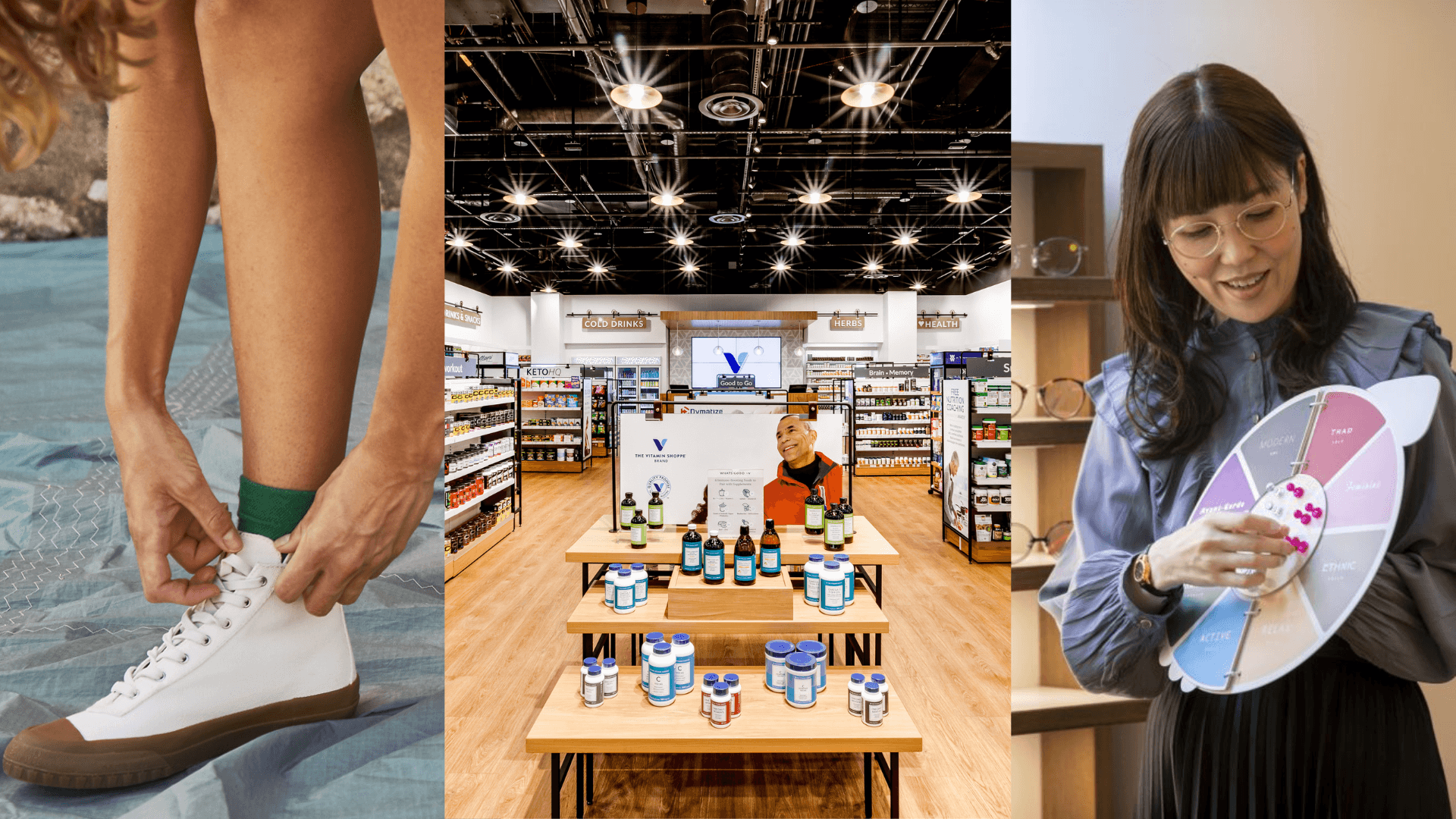 Case studies are invaluable in providing insight into how theory becomes practice. These studies offer on-the-ground information about how advanced analytics technology comes to life in a real store environment. This makes them a critical read for other retailers looking to drive efficiencies, make improvements, and foster a company culture of innovation. We've rounded up three unique case studies that each highlight an integral element of incremental improvement for modern retailers.
Below you'll learn more about how The Vitamin Shoppe said goodbye to labor-related guesswork, how Camper empowered employees to make data-driven decisions, and how Megane no Tanaka Optical was able to develop a culture of performance in stores!
---
Optimizing Labor With The Vitamin Shoppe
Since its founding in 1977, The Vitamin Shoppe® (TVS) has grown into the premiere global destination for health and wellness solutions, supporting millions of customers annually on their journeys of lifelong wellness. Based in Secaucus, New Jersey, the company offers a comprehensive assortment of nutritional solutions and natural beauty products.
In the U.S., the company conducts business in over 700 directly-operated retail stores under The Vitamin Shoppe and Super Supplements™ banners. Globally, The Vitamin Shoppe serves customers in select Asia, South America, and Central America markets through local omnichannel partners.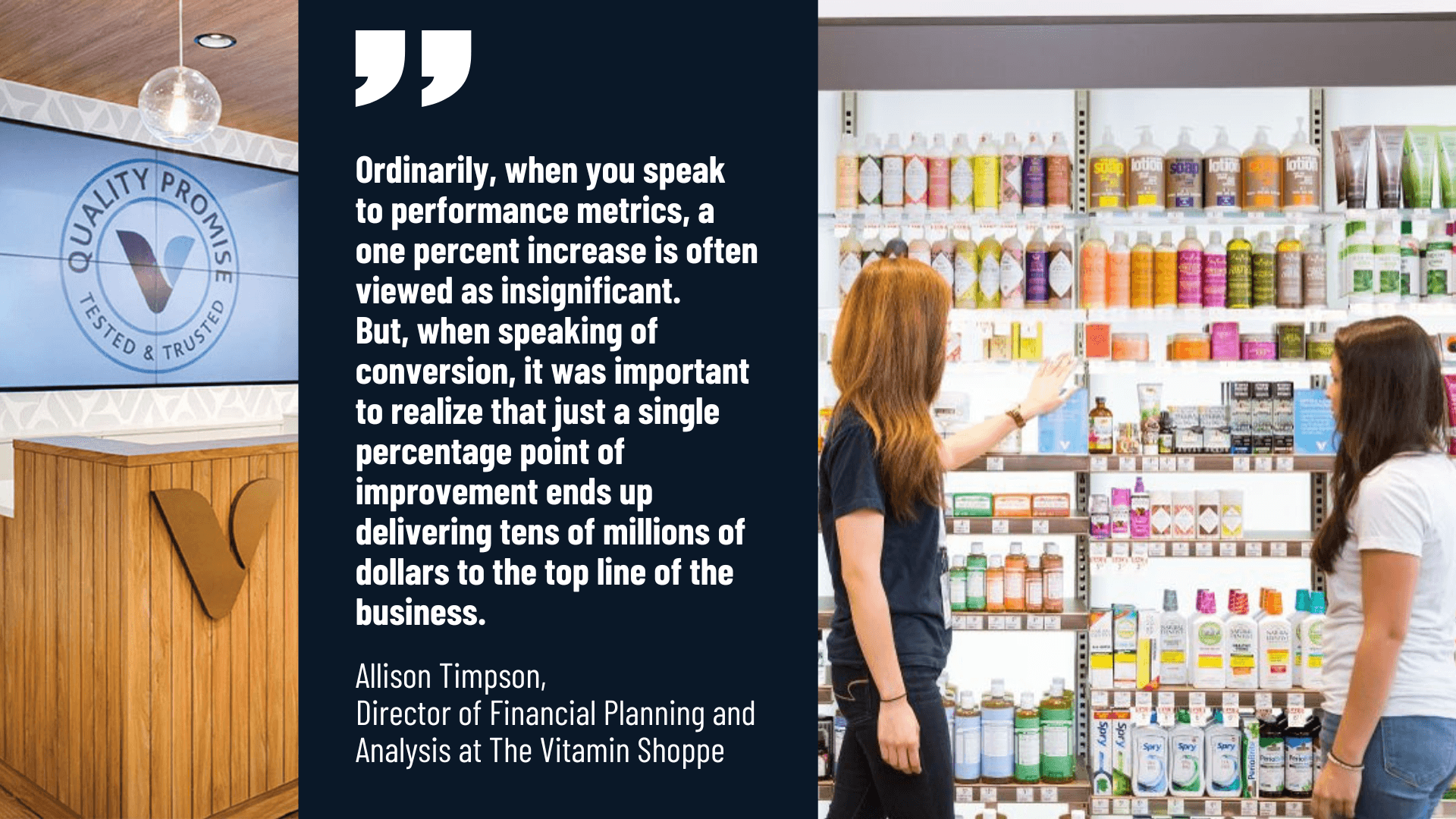 The Challenge 
Optimize labor scheduling to contend with rising national resignation rates;

Establish performance baselines across the TVS fleet; 

Identify areas for improvement and opportunity.  
The Solution
Previously, TVS manually scheduled its store staff resulting in mismatched labor per shoppers. This also created additional tasks for stores shift schedules were being manually created. The brand subsequently started piping data into its scheduling tool, using the RetailNext data as the main source for labor forecasts. TVS stores were able to see labor forecasts based on historical and predicted performance, paired with labor sales goals, etc. for approximately 3500 employees in the field.
The Results 
TVS ultimately improved profitability across the chain through the reallocation of labor based on traffic trends. Idle labor at some stores was reallocated to other stores with higher traffic volumes. In doing so, TVS was able to drive sales at stores with higher foot traffic while removing the expense of idle labor at other locations. In just two years, this has resulted in significant improvement in the payroll rate to sales.
READ THE FULL CASE STUDY: Driving Payroll Efficiency Amid 'The Great Resignation' 
---
Increasing Traffic With Camper
Founded in 1975 in Mallorca, Spain, Camper was created by Lorenzo Fluxa in response to the demand for a new and fresh style of footwear. With a rich heritage in shoemaking, this unique brand was created full of diversity and contrast which is now admired the world over. Camper's shoes are still designed and developed in the rural heart of Mallorca, with a young creative team working alongside artisans to create approximately 500 models each season. 
Now in its fourth generation, the brand's footprint has stretched around the globe with more than 400 stores. Each store has its own personality that infuses Camper's core brand identity with new perspectives. From the first store in Barcelona in 1981 to date, Camper has always sought to create a shopping environment that is lively and engaging.
The Challenge 
Providing high-quality store data that would help employees enhance the brand's in-person experience at various locations worldwide;

Developing a layered and contextual understanding of the in-store experience.
The Solution
By reviewing the in-store conversion rates on the RetailNext suite, store managers had key insights on performance metrics in comparison to last year, peers, and goals. Based on metric performance, the RetailNext platform recommended actions to the Camper team to implement in stores to increase results. Furthermore, Camper was able to accurately identify top performers for reward and recognition, as well as make sound business decisions to improve underperforming areas.
The Results 
Implementation has provided Camper with exceptional ROI through a unified internal culture, improved customer service, staff scheduling, and increased marketing efficiency and productivity.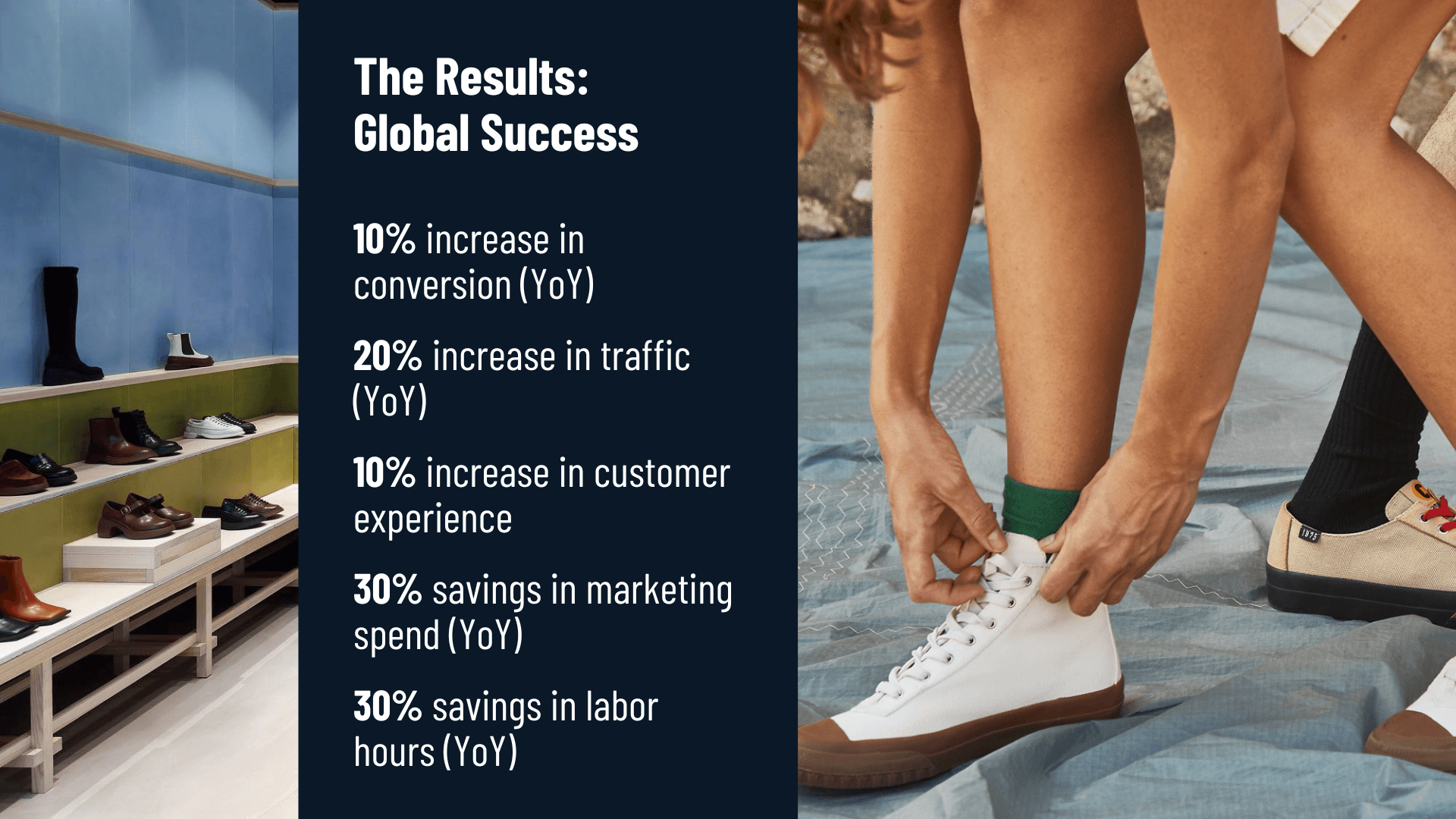 READ THE FULL CASE STUDY: The Secret To Camper's Global Success
---
Driving Performance With Megane no Tanaka 
Founded in Hiroshima, Japan in 1913, Megane no Tanaka Optical has built a history of excellence in eyewear for over 100 years. With over 100 locations, their expertise and professionalism in eyewear, hearing aids, and contact lenses are renowned throughout Japan. At the heart of Megane no Tanaka Optical's success is its ability to celebrate the uniqueness of each individual by providing a memorable customer experience tailored just for them. 
The Challenge 
A lack of comprehensive data about shopper journeys in stores and the effectiveness of in-store marketing strategies; 

Unable to define the traffic power hours and the number of employees to be scheduled per hour; 

Sales targets were not quantified. 
The Solution 
By investing in the RetailNext platform, this retailer was able to access accurate and actionable data that enabled them to pinpoint areas for improvement and removed the guesswork from making strategic business decisions. By reviewing traffic and conversion analytics, the brand developed a performance-based culture. Best practices were identified among top performers while underperforming stores were earmarked for improvement. Megane no Tanaka Optical also identified a trend that required the company to address the quality of staff training, store layouts, and merchandising.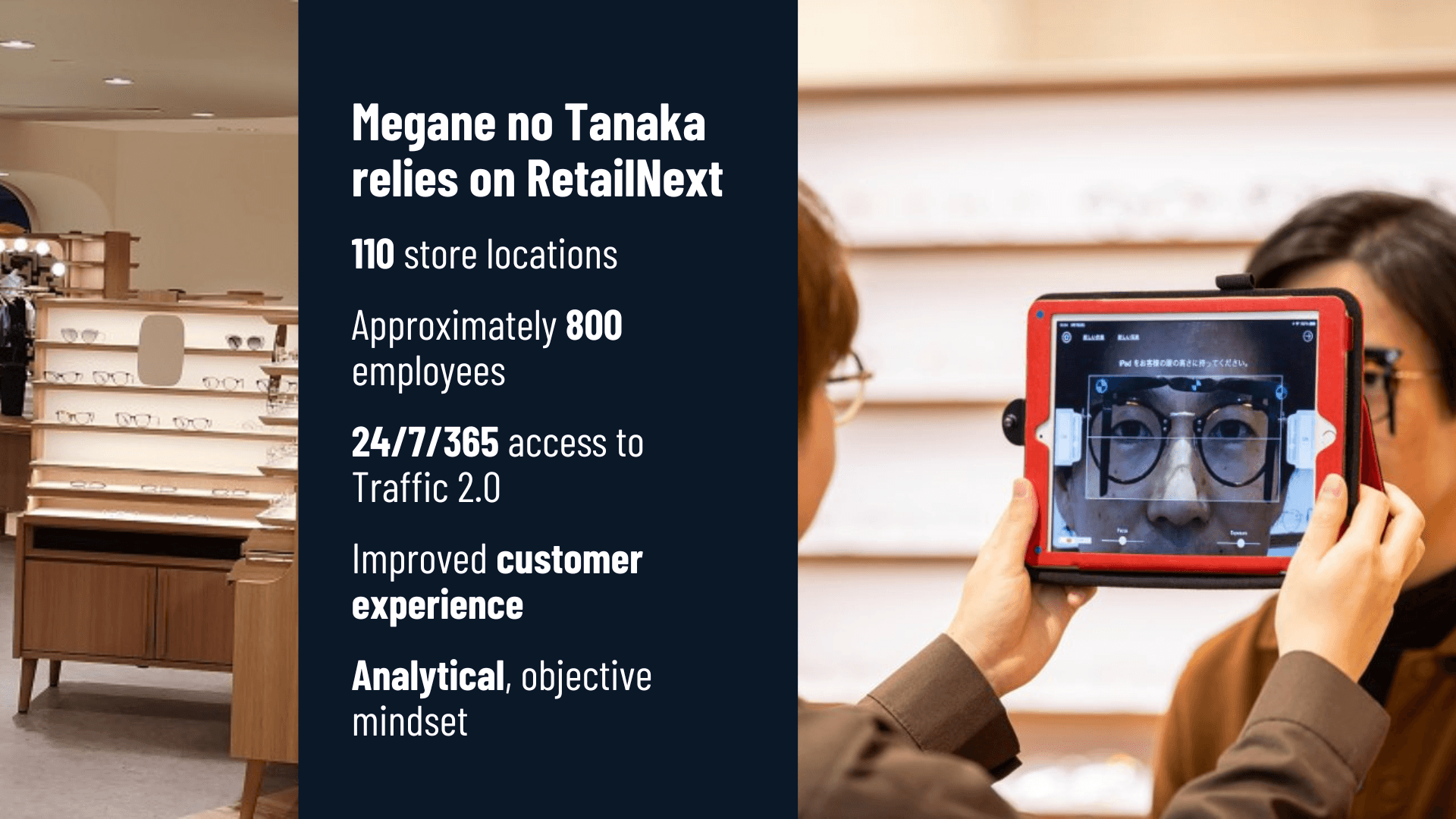 The Results 
Empowered by in-store analytics, the retailer's performance-based culture found its stride in 2021. On the customer experience front, improved staff scheduling helped match customer demand, which ultimately boosted the customers' in-store experience. There is now also increased efficiency as the brand measures the impact of store layouts, product placements, and other merchandising decisions on shopper engagement and performance metrics like conversion, average transaction value (ATV), and shopper yield. But perhaps most significantly, RetailNext has helped Megane no Tanaka Optical adopt a more analytical approach to all things brick and mortar. 
READ THE FULL CASE STUDY: How Japan's Leading Eyewear Retailer Drives Performance
---
These three case studies illustrate a few key examples of how our technology has helped brands achieve real, measurable results. To view more Literature, you can visit our dedicated case study archive. We are proud to have partnered with a wide array of forward-thinking retailers from around the world to address varying business challenges and goals. 
Founded in 2007, RetailNext is the first in-store analytics platform specifically built to help navigate the ever-evolving retail landscape. We've helped over 400 brands optimize their in-store operations and achieve sustainable growth. Our purpose-built software is intuitive, cost-effective, and trusted by industry leaders. Please reach out to us should you have any questions or require more information about how we can help you reinvigorate your retail business. 
About the author:
Ashton Kirsten, Marketing Communications Coordinator, RetailNext
Ashton holds a Master's Degree in English and is passionate about starting conversations through impactful content and executing data-driven creative strategies. She is based in Johannesburg, South Africa, where she can be found reading, writing and researching.