Getting Prime Day Shoppers To 'Come Back Again!'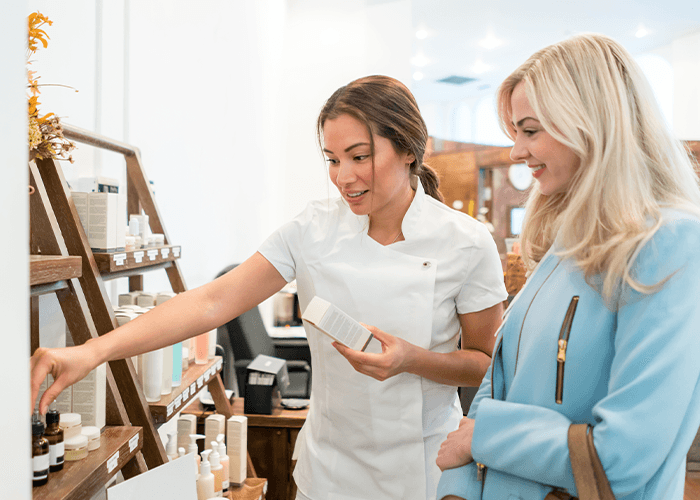 Consumers are gearing up for one of the largest online shopping events of the year - Amazon's much anticipated, Prime Day. The e-commerce giant's annual big sale will return on July 12 and 13 offering over 100,000 exclusive deals for Amazon Prime members. According to eMarketer, Amazon is expected to gross $7.76 billion in digital sales over the two-day period. 
Rising inflation and growing economic concerns are expected to fuel the appeal of Prime Day deals as consumers look for more ways to save money.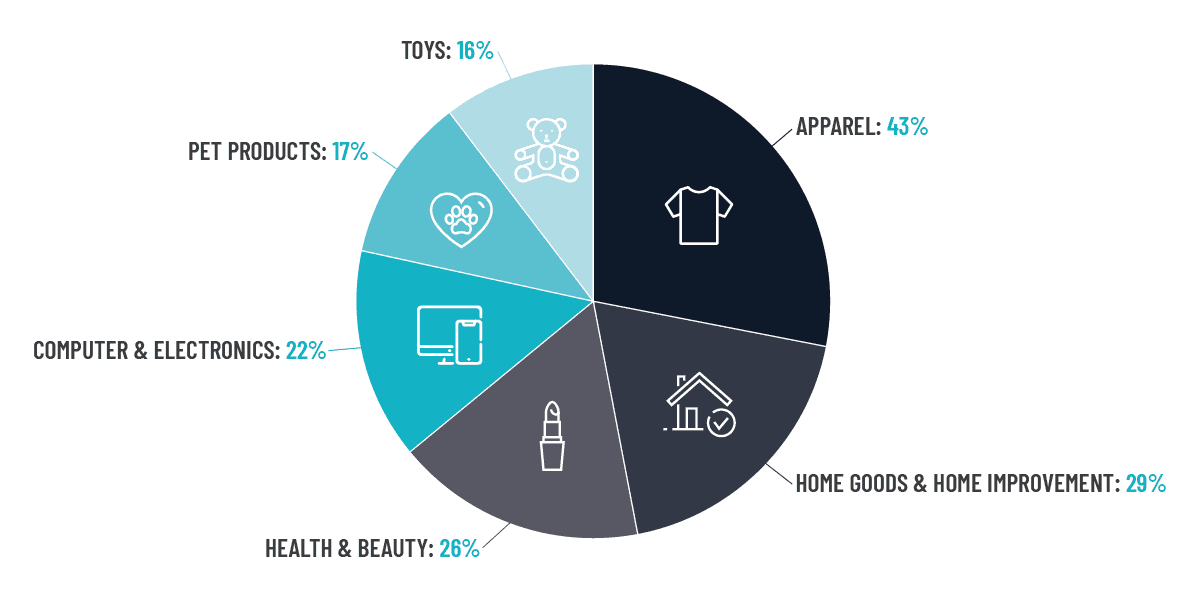 Non-Amazon retailers are forecast to generate $5.22 billion in e-commerce sales in the US alone, by offering competing discounts. But despite the high volume sales cycle's roots in e-commerce, brick-and-mortar stores typically also experience a lift in traffic and sales over the same period.
---
Brick-And-Mortar Store Trends: Prime Day
RetailNext store data indicate physical locations recorded notable increases in foot traffic and sales over the previous Prime Day events.  
US Store Metrics

* Avg Day is the Non-holiday Mondays and Tuesdays in May - July*
**Store performance data over Prime Day 2020 (October 13 and 14) has been excluded in the interest of accurate YoY comparison**
READ MORE: Performance Pulse Report
According to Salesforce, 60% of digital orders are now influenced by the store – whether demand is generated or fulfilled. It further predicts consumers will gravitate to the physical store in even greater numbers this year and that retailers with physical stores will grow online sales at a rate 1.5 times faster this holiday season than those without.
This is where your physical locations can win - by crafting immersive in-store experiences that convert one-off store visits into lasting customer connections. 
---
How To Move Beyond One-Off Store Visits
1. 'Phygital' In-Store Shopping
Your physical location offers a unique sensory experience to customers like no other retail customer acquisition vehicle. It's far more interactive, customers receive a personalized consultation and they get to know your store associates. Many retailers are exploring this connection as a means to create 'phygital' in-store experiences, which blend digital experiences with physical ones. 
Livestream shopping, or live e-commerce, is one such example. The multi-billion-dollar industry allows retailers to digitally broadcast their products from just about anywhere, including physical stores, and connect directly with online consumers. Consumers, in turn, can engage and ask questions via video or live chat and add products directly to their basket from the stream. It cohesively combines the huge traffic potential of websites with the significantly greater conversion rates associated with visiting a physical store.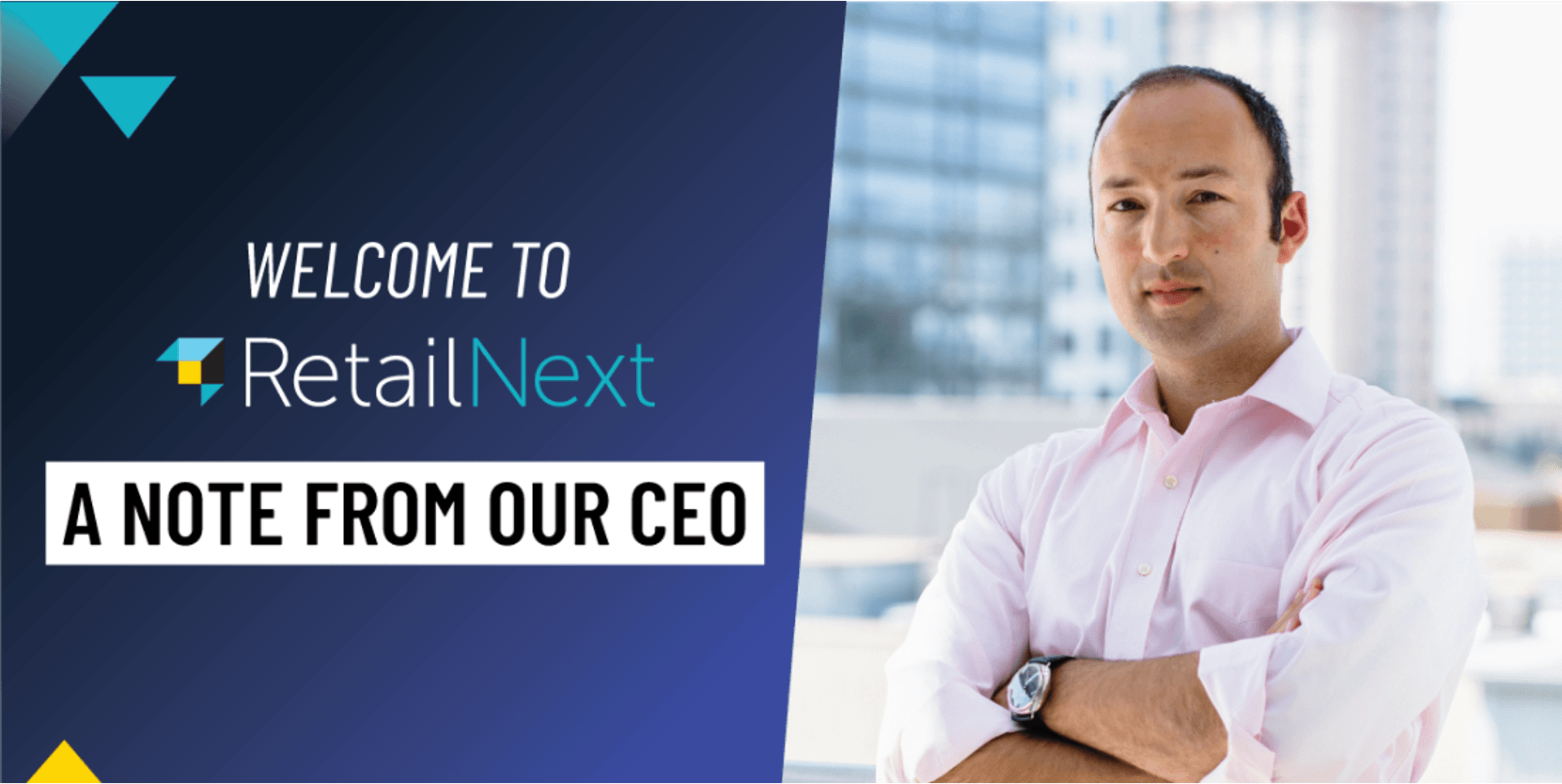 Last year, Macy's introduced 'Macy's Live' allowing customers to interact with hosts and stylists and shop for products. Tommy Hilfiger meanwhile attracted an audience of 14 million and sold 1,300 hoodies in two minutes during its live stream program to Europe and North America. Retailers, in general, have also recorded individual success by holding live events on major retail occasions like Black Friday.
According to McKinsey, live e-commerce was used by 265 million people by March 2020. Gen Z and millennials dominated much of the segment, although middle-aged and more-senior consumers are starting to show interest. With the ever-increasing need to provide customer interactions steeped in experience, your brand must be equipped to meet customers 'where they are' by exploring new formats of your physical store. 
READ MORE: How To Successfully Convert Physical Stores Into Ad Spaces
The 'store as media' concept opens the door for your physical locations to act as a stage, a media channel, an ad vehicle, and many more, that raise brand awareness through non-traditional channels. This Prime Day, consider how your brand can use live e-commerce to connect with your shoppers in a way that moves beyond transactional interactions to build lasting brand loyalty. 
Set up live streaming on your website or by using social media apps, such as Instagram. 

Consider having your store staff host your live stream to drive ambassadorship. 

Feature your most popular products. 

Select a time when in-store traffic is low, driving purchases online where your store associates can facilitate sales. With predicted traffic trends on hand, you can easily identify when traffic is low to then schedule staff assisting customers during the live stream. 

Remember to keep it vibrant! This will encourage shoppers to visit your store in the future.    
2. Remember, In-Store CX Drives Brand Loyalty 
Order Fulfillment 
Customers are without a doubt more invested in a seamless connection between online and offline experiences. Your brick-and-mortar stores are perfectly positioned to meet this growing customer demand, amidst the ongoing shipping delays and frustrating returns processes. If you're considering hosting a live commerce event around Prime Day, why not complement it by also offering an efficient alternative delivery method, like BOPIS or BOPAC, to further augment the CX journey.
Retailers who adopted this approach across Prime Day in 2021 certainly reaped the benefits.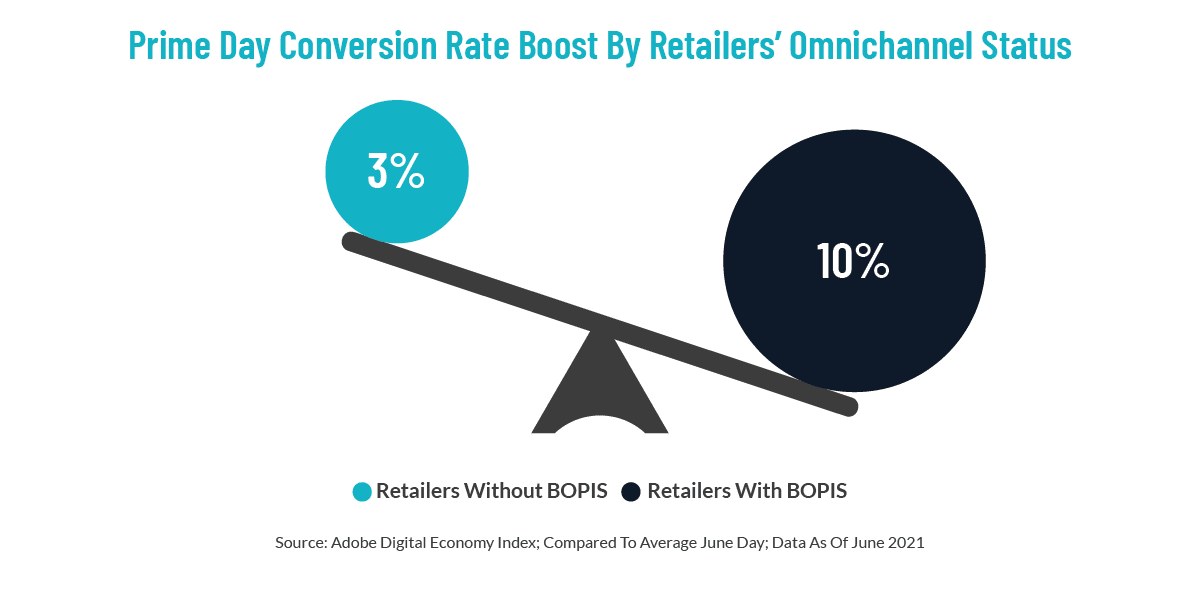 Ensuring a friction-less, check-out experience is the key to this success. And your store's traffic data can easily help achieve it. The solution should provide you with predictive shopper traffic trends to forecast peak hours and shopping behavior patterns. An analysis of this will help to schedule store associates and shoppers per labor hour to traffic power hours, by integrating workforce management with traffic data. 
Optimizing labor per traffic hours will then allow your stores to factor in non-selling activities such as order fulfillment. By reviewing traffic data with AI predictions, your brick and mortar stores will be able to determine how long it takes to fulfill orders, and how many associates are needed, giving your brand the ability to remove friction for both customers and store associates.
Virtual Queuing 
Imagine the frustration your customers will feel if they've selected an alternative delivery method like BOPIS or BOPAC yet still have to wait in line to collect their orders? All that hard work to create a seamless and blended in-store experience is lost in the blink of an eye. Consider integrating in-store traffic data with a virtual queuing app such as YOOBIC to work around this problem. Through its partnership with RetailNext, many brick-and-mortar stores are able to enhance their in-store experience and reduce high-density occupancy levels by enabling customers to: 
check live in-store occupancy levels at any location 

select the store location where they'd prefer to shop 

join the virtual waiting list or book an appointment 

get a notification when it's their turn 
Frontline Workers Are The Heroes 
Such strategies, of course, rely on the in-store associate to create experiences that can't be replicated online, and then to be effective at convincing the entertained shoppers to return. At the heart of it is an understanding that to grow sales, you need to place the right employees, in the right place, at the right time to convert shoppers into buyers. Ultimately, this will help to re-engage with your new customers at scale for re-sell, cross-sell & up-sell opportunities; and to re-target lost customers. 
We've covered how smart schedules, provided by integrating your workforce management and traffic data, can help allocate the staff numbers needed. So you'll be able to add staff when needed and remove staff when traffic is low yet conversion remains stable. But by further quantifying where shoppers are spending most of their time in-store, you can also ensure those store associates are placed in the right areas of the store during Prime Day. If store associates are spending more of their time in Shoes, while the shopper is spending more time in Apparel, consider adding a floater in Shoes to monitor Apparel as needed. 
Directional traffic maps take it a step further by also revealing how customers traverse stores, engage and convert differently. A US-based retailer, dedicated to hand-crafting world-class knives, leveraged these insights to improve its merchandising and target specific customers with customized sales pitches on specific product selections. It even identified what store associate-shopper interactions most affected conversion and sell-through on particular products and displays.
Empowering you and your frontline workers with comprehensive shopper data from your brick-and-mortar locations can be the key to elevating your customer service and transforming a one-off sales event this Prime Day to repeat transactions. 
3. Targeted Brand Messages 
One of the common mistakes that brands make post-Prime Day is slowing down their marketing efforts. Shoppers meanwhile continue to keep pace with high sales volumes recorded for at least two weeks afterward. Your physical stores can use the Prime Day 'halo effect' to promote flash sales for the upcoming holiday season or even drive long-term goals such as loyalty programs.
A well-known digitally native brand, for example, has executed several retail marketing campaigns designed to drive traffic to stores and subsequently boost conversion rates. For example, local TV and radio campaigns may include an end tag with a CTA to visit the local store (i.e. mention the ad for 10% off). 
The DTC can then measure the effectiveness and efficiency of these campaigns simply by reviewing the store traffic data recorded over the outreach. A similar approach is adopted for measuring the effectiveness of ad space in a newspaper or local magazine or when delivering postcards or bi-folds to local areas.  
When it comes to regions, as well as mall vs off-mall, brick-and-mortar retailers can use store data to significantly hone in on their location-based marketing strategies and optimize their business. Location-based marketing is enabled via devices connected to the internet, such as phones, cars, watches, etc, which often track the user's location. Analyzing your regional, as well as mall vs off-mall, store data can help your marketing teams refine their strategies to better reach customers.
Geotargeting - users receive personalized messages based on their location. Google, for example, implements geotargeting based on the IP address of a user's device while they're searching for a restaurant, coffee shop, etc. 

Geofencing - retailers can use this to create a boundary within a specific region so customers become an active target of the marketing strategy when they enter the boundary and receive relevant content and offers. 

Mobile Targeting - your marketing team can use mobile messaging, informed by the traffic data, to target consumers with ads on their mobile devices. 

Geo-Conquesting - you can divert prospects away from your competitors by creating a boundary around their stores so that when a target consumer enters that boundary, they will be sent an offer to encourage them to visit your store.
---
Conclusion
While Prime Day provides the thrill of major online flash sales, it lacks the unique shopping experience that physical locations deliver. Brick-and-mortar retailers will do well to focus on what makes them great in the first place — and that's designing an atmosphere where the experience of shopping is actually enjoyable.
About the author:
Judith Subban, Marketing Communications Manager, RetailNext