Bean Brief: NRF Day Three, 17 January 2023
The final day of NRF 2023 pulled no punches. Turnout was strong and attendees engaged with all that the Big Show boasts. Today is a bittersweet day: a full day packed with the most innovative and relevant happenings in retail, and also the last of its kind for another year. 
All in all, today capped off yet another successful show. Here's what you need to know about it.
---
Keynote Callout, 30 Minutes With Geoffroy van Raemdonck
Luxury is booming. Year-on-year, the luxury space is only growing. Neiman Marcus Group (NMG) CEO, Geoffroy van Raemdonck joined Phil Wahba in conversation about how NMG is setting itself apart in the hyper-competitive luxury market. 
NMG positions itself as a unique player; not as a department store, but rather as a relationship business. The premise is simple: store associates cultivate long-term relationships with clients across Neiman Marcus and Bergdorf Goodman brands. Interestingly, only 2% of NMG customers generate a staggering 40% of overall revenue. By giving these shoppers the ultimate personalized experience, associates are able to drive sales and retain mainstay clients for years. 
"As you get to know someone, you are able to really provide what is right for them. You know their family and can understand the moments that are really important for them," says Geoffroy, speaking to why these relationships really matter. A key component of these relationships is discovery. The group prides itself on the revelation and mentorship of emerging brands. These up-and-coming brands are then served to longstanding clients, thereby allowing them to better understand their market and leverage NMG's established – and affluent – client base.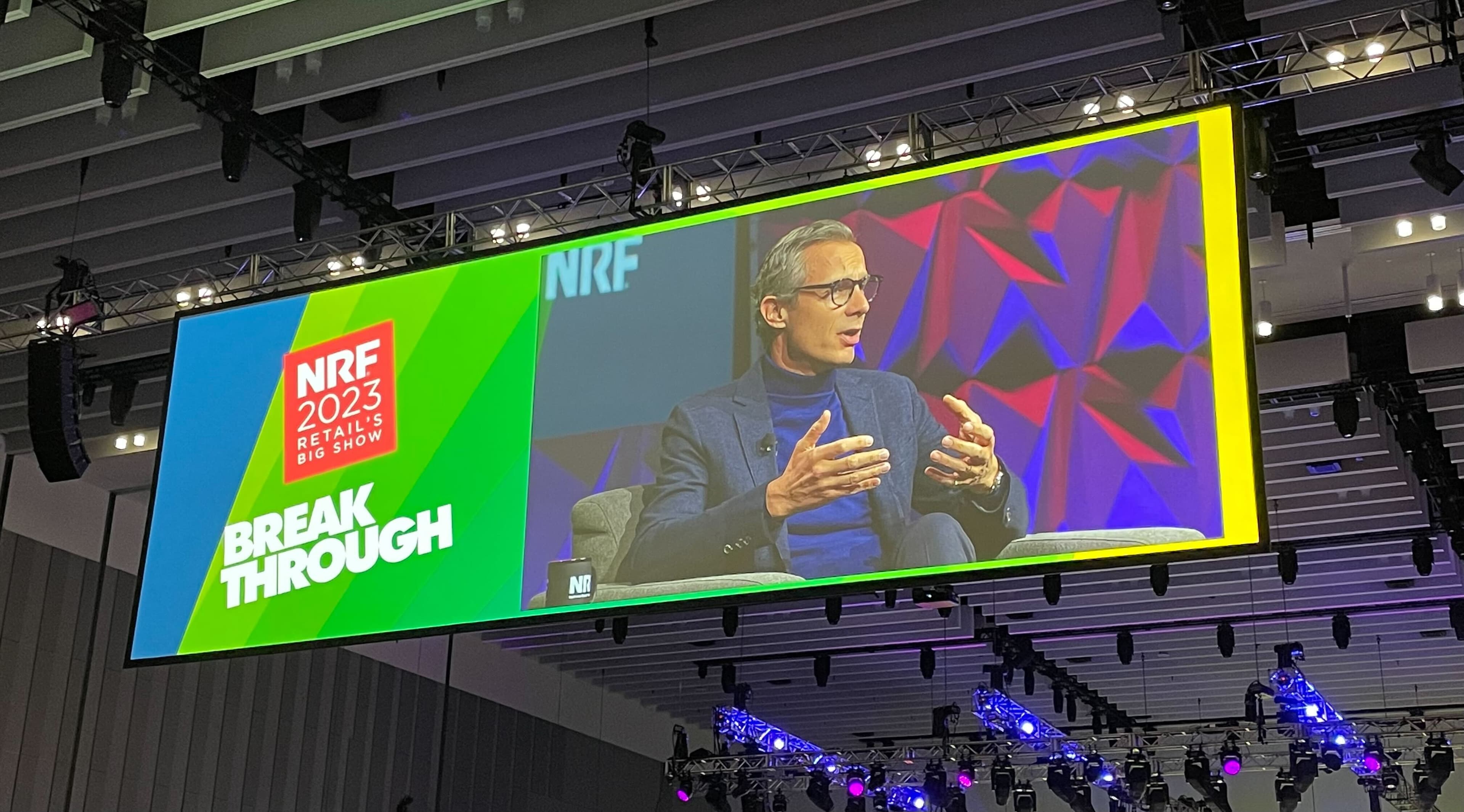 While brick-and-mortar is key to this relationship-building process, the brand has recently partnered with FARFETCH to expand its offering online. The goal is to bring two different business models together to offer a seamless omnichannel experience to shoppers. This approach is also more scalable, enabling cost-effective worldwide shopping, while also retaining the one-of-a-kind luxury in-store experience. 
Critical to the group's experiential offering and conversion strategy is solid company culture. "Our purpose is to make life extraordinary for our customers [by] leading with love," Geoffroy notes. This focus on belonging, encouragement of work-life balance, commitment to inclusivity, and commission structure is why the average NMG tenure is nine years. Staff happiness is a key business driver – stimulated staff are best equipped to maintain lifelong relationships with luxury players. 
READ MORE: Bean Brief: NRF Day Two, 16 January 2023
---
Fireside Chat, Wrapped
Shelley E. Kohan, Chief Strategy Officer at The Robin Report, moderated a laughter-filled Fireside Chat with Gabrielle Curione, RetailNext Strategic Account Director, and the Vice President of Store Operations and Finance of a leading luxury fashion group. The chat explored how brands can empower associates with data to elevate in-store experiences.
The fashion group has rolled out full path analysis in key locations across the USA – and the impact on labor optimization and training has been massive. RetailNext data has been used to staff most effectively and this has meant that associates have time to engage with customers and create "magic moments". Heatmapping and traffic visualizations enable staff to deliver exceptional customer service, action data-backed merchandising strategies, and benchmark performance. 
In the past, the group used to "have to boil an ocean of data" to glean insights… Now, the process is simplified and far more intuitive. The data has helped the group "put a lot of science around merchandising", thereby setting associates up for success and aligning with shoppers' ever-evolving expectations. 
The key learning from this session: "Be curious. Follow the data and see where it takes you".
---
Shop Talk: Quote Of The Day 
"There was a moment where the [brick-and-mortar] store was dead…and then, today, what we're seeing is 70% of stores at their highest watermark ever… It's a sign that customers want true experience"
– Geoffroy van Raemdonck, in Revolutionizing luxury experiences: A conversation with Neiman Marcus Group CEO, Geoffroy van Raemdonck. 
---
Thank you to all who came by our booth! We loved hosting you and making such meaningful connections. Please stay in touch and keep an eye out for our recorded Fireside Chats on our LinkedIn ️‍🔥
---
About the author:
Ashton Kirsten, Marketing Communications Coordinator, RetailNext
Ashton holds a Master's Degree in English and is passionate about starting conversations through impactful content and executing data-driven creative strategies. She is based in Johannesburg, South Africa, where she can be found reading, writing and researching.