Retail Impact: Europe's Move Towards Sustainable Fashion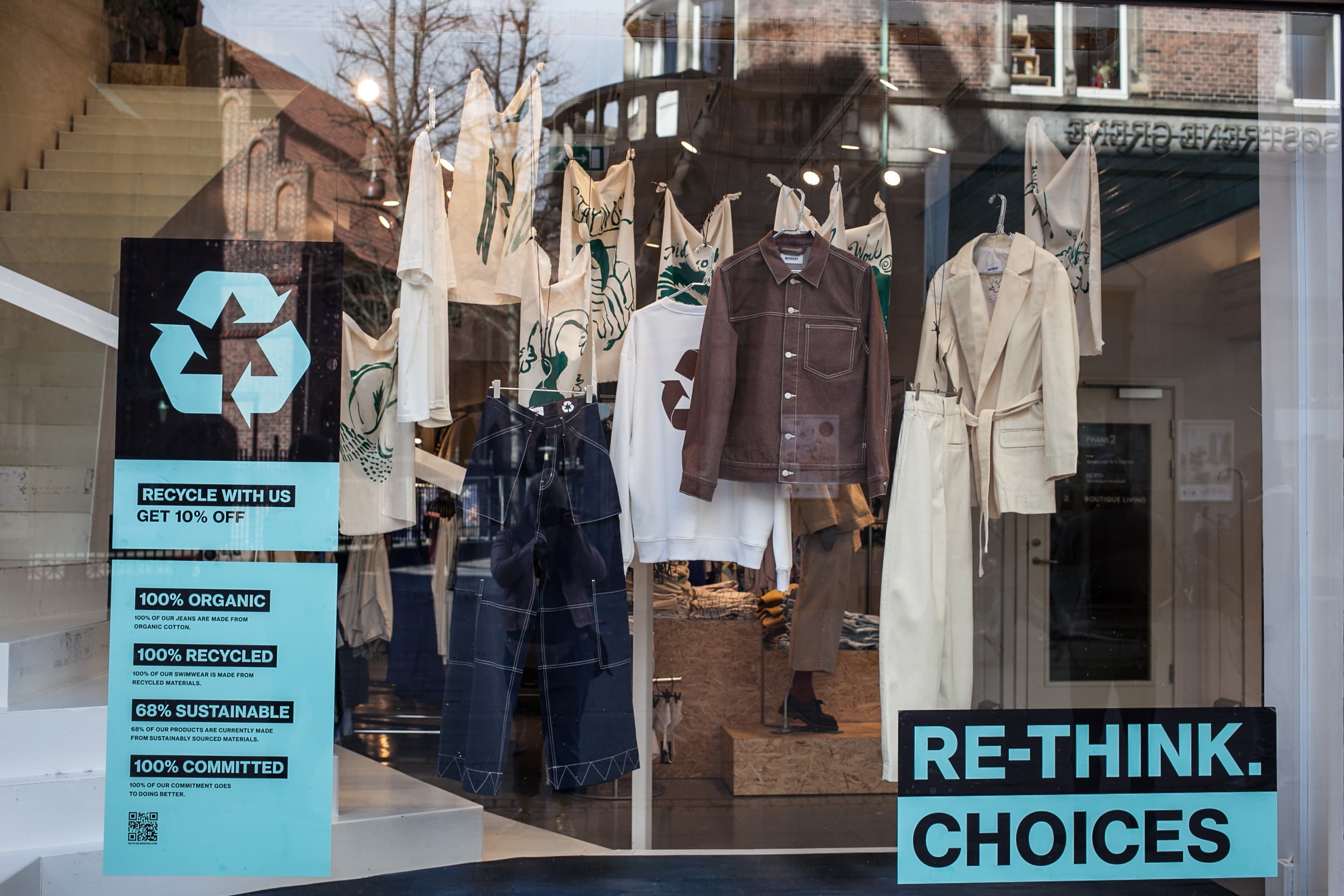 Globally, the purchasing of second-hand luxury items "pre-loved" is increasing. Circular fashion continues to gain popularity, specifically in the luxury sector. This kind of change in consumer sentiment (and resulting behavior) has forced the creation of new business models within retail. In 2023, as it was in 2022, concerns around sustainability are ever-present. European retailers have been particularly adept at addressing these concerns in stores – and this has helped them become more popular and resilient. 
According to the 2023 Europe Luxury Report, 77% of shoppers in Europe have revealed they are interested in buying sustainable luxury products. Moreover, 51% of shoppers are willing to pay up to 10% extra for items sustainably made or shipped. This uptick in interest has largely been attributed to the Covid-19 pandemic. At home, consumers had time to consider their environmental impact and their relationship with the natural world. Now, retailers in Europe are taking these concerns seriously, presenting shoppers with options to help create a greener future – and omnichannel retailing is key to the success of these efforts. 
READ MORE: Key Trends Driving Europe's Retail (R)evolution
---
A Cleaner, Greener Supply Chain
The fashion industry is one of the most polluting industries globally. In fact, the European Parliament argues that the fashion industry is estimated to be responsible for 10% of global carbon emissions – more than international flights and maritime shipping combined. According to the European Environment Agency, EU consumers discard about 11 kg of textiles per person per year. There are many contributing factors to figures like this, but one thing rings true: old systems must adapt to the modern consumer's preferences.
In an official European Parliament press release published in June 2023, the governing body has called for EU countries to end "fast fashion" and help consumers make more ethically responsible and sustainable choices. Now, textile products sold in the EU should be more durable, and easier to reuse, repair, and recycle. The products' production should also respect human, social, and labor rights, the environment, and animal welfare throughout the supply chain. This is a step in the right direction, as it acknowledges that consumers alone cannot reform the global textile sector through their purchasing habits. Moreover, there is more accountability for retailers, meaning "greenwashing" can be addressed more seriously. This new policy will undoubtedly have far-reaching effects on the textile industry both in Europe and abroad. 
In the UK, UKRI (UK Research and Innovation) has unveiled a £6 million investment into the fashion and textile industry to help drive more sustainable practices. This funding is intended to help three teams of researchers to build up data and knowledge surrounding the adoption of circular business models. The aim is to bring together industry experts and researchers in environmental science and fashion to embed sustainability in the UK's fashion and textile industries. Commenting on the funding, the CEO of the British Fashion Council, Caroline Rush, stated: "We look forward to working with industry and government to support the UK in retaining its reputation as creative leader in a global industry and to develop its ability to responsibly and collectively address how we accelerate to a leading Circular Fashion Eco-System in the UK."
---
Destigmatizing "Pre-loved" Fashion
According to McKinsey, roughly 97% of clothing eventually ends up in a landfill. This has given the fashion industry a bit of a bad rap. Dumping tons of clothing has caused a significant humanitarian issue for some of the world's most-loved brands. Brands' over-production can be devastating to the countries that are tasked with disposing of this waste. In the past, this may have simply been viewed as a logistical issue, but this dumping is increasingly becoming a PR one. Ghana, for example, has been referred to as "fast fashion's dumping ground", with polluted waterways being viewed as "death pit[s]". This doesn't reflect flatteringly on some of your favorite brands.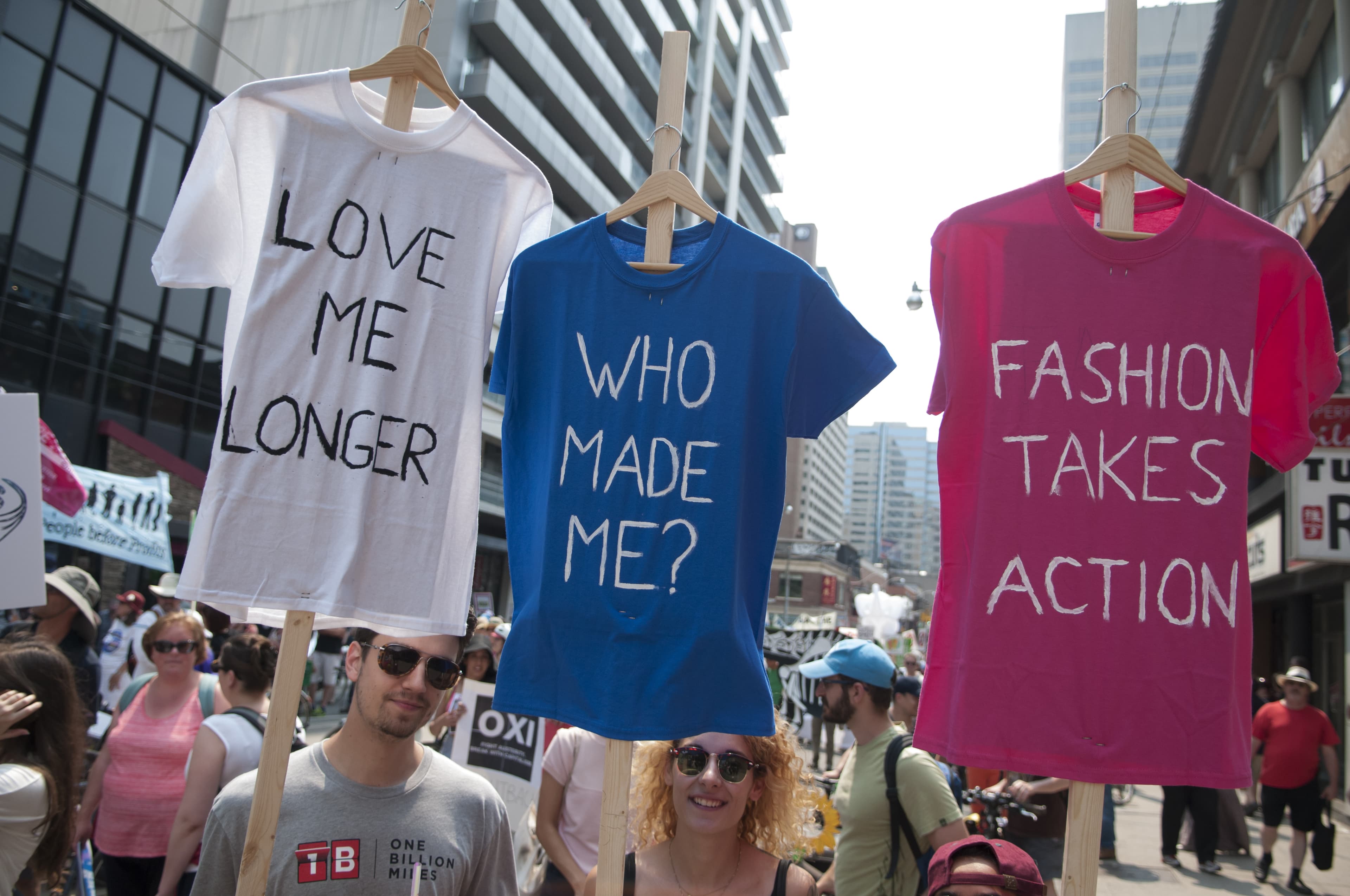 One of the ways brands have sought to reduce dumping is by recycling. Now, producers are seeking to increase the textile-to-textile recycling rate long-term. British designer Stella McCartney is a pioneer in promoting more ethical and sustainable pieces. Her collections notably include pieces made from upcycled or recycled materials like vegan leather and recycled polyester. 
Additionally, luxury brands have started offering recycling and upcycling services for high-value garments and accessories. This marks an important step towards sustainability: the destigmatizing of secondhand items, especially where resource-heavy specialist materials are involved. A leader in this space is Gucci Vault which merges past, present, and future trends in a singular, more sustainable place. Vintage Gucci products are upcycled by young designers to create one-of-a-kind pieces that sell out almost immediately. 
Valentino sells vintage items collected from customers in exchange for shop credit. Valentino Vintage garments are sold in seven vintage shops across seven cities (London, Paris, Milan, New York, Los Angeles, Tokyo, and Seoul). These shops host special events, allowing people to discover Valentino garments from different decades. In this way, the brand has maintained its sense of exclusivity while also being conscious of its footprint. 
The RealReal curates hundreds of luxury brands like Louis Vitton, Dior, Louboutin, Hermès, and Bottega Veneta, to name a few, into a singular platform. While based in the US, the third-party marketplace ships authenticated secondhand luxury pieces internationally. This encouragement of resale shopping forms the basis of the platform's message that "the future of fashion is circular". Julie Wainwright, CEO of The RealReal, notes: "Addressing the climate crisis means creating permanent change within the fashion industry and reversing the damage we've done."
READ MORE: How Retailers Can Leverage Circular Economies
---
How Omnichannel Fits Into The Mix
Let's go back to basics for a moment. The purpose of omnichannel retailing is to maximize customer experience across channels and touchpoints. Retailers occupy a central position in promoting sustainability as consumers become more conscious of their purchasing decisions' impact on the environment. Retailers can thus be considered active intermediaries between producers and consumers and thanks to their position, they can encourage the use of sustainable production methods and influence consumers in the adoption and purchase of more ethical products.
Retailers should be leveraging the reach of their online platforms to communicate their sustainability efforts. This brand story can then most effectively come to life in stores. By way of illustration, apparel heavyweight H&M communicates their garment recycling initiative on their social channels and website then offers in-store drop-off points for pre-loved clothing in their stores. When shoppers recycle their clothing in H&M stores, they earn rewards or vouchers that can be spent in-store or online. In this way, the brand enlivens its sustainability goals across all touchpoints.
Specialist products, like running shoes, for example, require specialist, resource-intensive materials. However, the demand for sneakers and running shoes is booming alongside the demand for more ethically produced apparel. This is a tough ask. Nevertheless, retailers are giving it their best shot. For example, SportsShoes.com, a 40-year-old sports goods retailer, aims to become the world's most sustainable running equipment retailer by 2025. How? By offsetting the carbon emissions it has generated since its establishment. The retailer stocks world-famous brands like Asics, Nike, Adidas, Hoka and New Balance. The company's 'Leave No Footprints' strategy allowed them to achieve carbon-neutral status in April 2021. That same year, the brand launched its first sustainable store. This retailer is actively working with brand partners to identify products that have a lower environmental impact and then merchandise them in one full-service store. This new, truly omnichannel offering is a heartening example for DTC retailers looking to expand sustainably.
Online, Zalando, Yoox Net-a-Porter, and German e-commerce giant About You have unveiled plans to expand their joint sustainability platform, the Fashion Leap For Climate. The scheme, which was launched last July, supports fashion brands in setting sustainability targets that align with climate science and helps measure carbon footprints. The fashion giants invited 250 of their brand partners to take part in the initiative. According to Internet Retailing, brand partners of the three e-commerce giants reported a boost in confidence, with an 85% rise in their understanding of science-based targets after completing the program. Achieving these sustainability targets will happen in brand partner stores, through staff training, more intentional merchandising and sourcing practices, and eco-friendly operational optimization.
---
The EU is taking the bull by the horns when it comes to sustainability in the fashion industry. Through comprehensive policymaking and investment in ethical business practices, Europe is paving the way for a greener, more intentional industry. Fast fashion is out, and ethical, cleaner ("slow") fashion is in. This new approach to fashion brings into focus just how important omnichannel retailing is in terms of serving shoppers effectively while also communicating a brand's story to more conscious consumers. 
Thus, retailers play a critical role in the adoption of circular fashion. Not only do they facilitate and participate in recycling or upcycling programs, but they also make these accessible to consumers. Retailers have the power to influence consumers' buying decisions in a big way. They therefore have a responsibility to advocate for more sustainable practices within their respective industries to ensure their resilience as shoppers make more informed choices. 
READ MORE: What Is The GDPR's Effect On Data Collection In Retail?
About the author:
Ashton Kirsten, Marketing Communications Coordinator, RetailNext
Ashton holds a Master's Degree in English and is passionate about starting conversations through impactful content and executing data-driven creative strategies. She is based in Johannesburg, South Africa, where she can be found reading, writing and researching.